Axie Infinity leads $ 2 billion in in-game NFT sales
What we are seeing today are flowers showing the potential of the future harvest. Axie Infinity recently broke all sales records with over $ 2 billion in revenue. In fact, this propels it to the top and the status of the undisputed leader in the ranking of platforms / blockchain games with the most expensive NFT collection to date.
DappRadar data shows Axie Infinity currently holds record NFT sales of $ 2.05 billion, with more than 615,000 managers, breeders and players accounting for more than 4,880,000 transactions.
Even if a wide audience fell in love with the game mainly for the opportunity to earn money, which is especially true for Southeast Asia and developing countries of the third world such as the Philippines, Axie Infinity managed to break into the NFT space so confidently that it ousted such famous names as the NBA Top. Shot and # 2 CryptoPunks characters with only $ 1.29 billion in sales.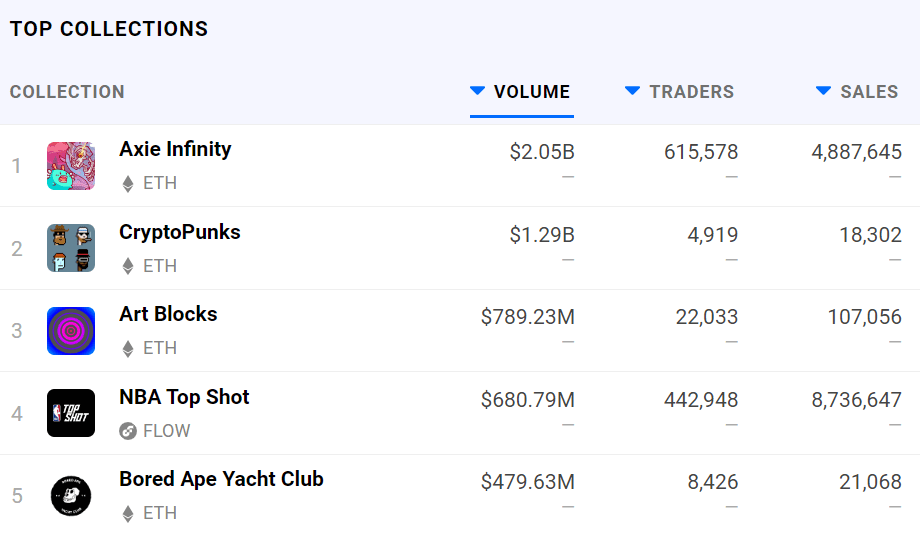 After strengthening Axie Infinity's position in Asia and tremendous support from grateful players, inspired by the earnings that help to escape poverty during these difficult times, the game is gaining attention and gaining momentum on a global scale.
Official repair site Asic for mining cryptocurrencies in Russia.
The latest industry report by DappRadar shows that Axie Infinity is still the largest contributor to the broad and inclusive NFT economy, spanning multiple platforms, and the average in-game transaction price has doubled from $ 226 last May to the current $ 420.
The Vietnamese development team behind Sky Mavis, behind this popular game, recognizes that although it now has over 1.6 million daily active users every day, this rapid growth will eventually stall, and it will happen rather soon. In the meantime, the team is actively developing major updates that will ensure the fun of the game for many years to come.
Realizing that not all players can join the game due to lack of funds for the initial investment, the developers of Sky Mavis are preparing a new combat system or demo version for free testing of the game. Only then the user will have to fork out a little to build their first team.
According to CoinGecko, a couple of weeks ago, the AXS in-game control token peaked at an all-time high of $ 93.68, currently down to $ 58.30. Likewise, since hitting a record high two months ago, the game's SLP utility token has dropped 78% and is worth $ 0.087 at the time of writing.
Such price fluctuations are expected, because the influx of new players creates high demand for both the AXS token and SLP, and the in-game economy, like the entire crypto market, does not immediately reach an ideal balance.